SHN Foods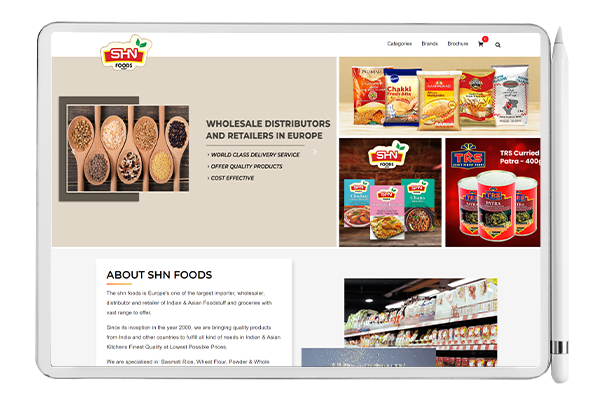 Client Profile
The SHN Foods is Europe's one of the largest importer, wholesaler, distributor and retailer of Indian & Asian foodstuff and groceries with vast range to offer. Since its inception in the year 2000, they are bringing quality products from India and other countries to fulfill all kinds of needs in Indian & Asian kitchens finest quality at lowest possible prices.
Objective
The main objective of this project is to create the e-commerce platform for the B2B venture as per the market requirements. The project lists grocery items from multiple brands and we developed the website from scratch. After creating the platform we are managing the Social Media Campaigns of SHN foods as well.
Services Provided
Design Prototype
Frontend Development
Backend Development
QA & testing
Social Media Posting
Marketing Campaigns
Approach
Team Ezbiz created a user-friendly interface for the listing of all the grocery items under suitable categories for the easy navigation of the visitor. Our team helped SHN Foods with a user-friendly admin panel through which they can manage the orders, deliveries, inventory etc. with ease. Team Ezbiz is managing the regular marketing campaigns on website and social media activities.
The client from germany was utterly astonished when we presented this e-commerce project for the first time. And now, as we are managing this platform on our own we are periodically introducing the new features on our project in order to make the the website more user friendly and increase the traffic.