Dampf Company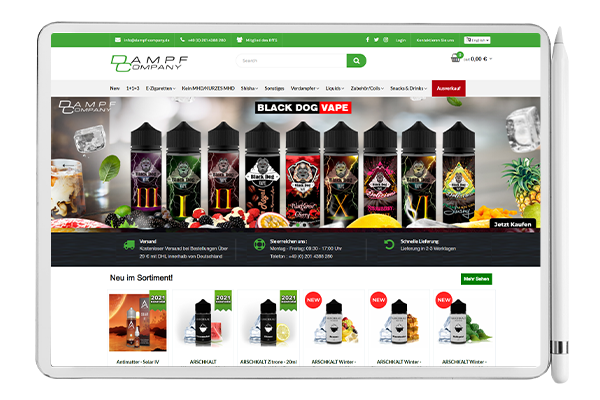 Client Profile
As a German supplier based in the heart of the Ruhr area, they offer various models of electronic cigarettes, aromatic liquids, accessories for electric smoking and American Sweets. When it comes to sales, they focus on first-class service before and after the purchase, regardless of whether it is in shipping or on-site.
With the purchase of a product sold by them, customers acquire a quality product that complies with European quality and safety standards and is highly reliable. The products are subject to strict quality controls from manufacture to distribution. Dampf Company caters both B2B & B2C ventures in Germany.
Objective
The Dampf Company client approached us with the objective of scaling their business on the online shop which included generating more website traffic, customer engagement, increasing ROI, managing and strategizing marketing campaigns and improving relationships with their current partners & clients both in B2B & B2C ventures.
Services Provided
Design Prototype
Frontend Development
Backend Development
QA & testing
Digital Marketing
Post Delivery Maintenance
Approach
We suggested customised solution for developing a website leveraging the power of HTML and PHP. The web experts came up with a strategic architecture in one go that fulfills the project objectives. The team kept the navigation simple on the homepage that guides visitors to explore all the categories. The data migration was planned and put in the place effectively with no flaws at all. Our team helped Dampf with a user-friendly admin panel through which they can manage the orders, deliveries, inventory, banners etc. with ease. Team Ezbiz is also managing the regular marketing campaigns on website, newsletters and social media activities.
The website development and testing were put in sync to avoid any iterations at the end of the project to save time & to ensure quality and flawless delivery of this website.
The client was delighted with the design, state of art UI/UX, features and development efforts of Ezbiz team.