Zahara Tours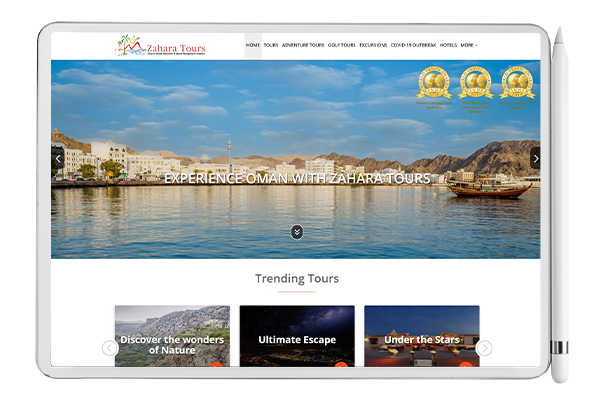 Client Profile
Zahara Tours is the pioneer in the Travel and Tourism business in Oman. Since its modest beginning in 1971, Zahara Tours has developed into a prominent service organization recognized by IATA, SITE, and ASTA. They specialize in F.I.Ts, Groups, Conferences, Charters, Incentives, Special interest groups, Cruises and Adventure Tours. It enjoys a very high reputation for professionally efficient service employing multilingual tour guides with a fleet of deluxe, air-conditioned luxury vehicles.
Zahara Tours is the only organization who has won the "Oman Award for Excellence" in Tourism three times. From the moment their professional guides meet and greet their guests at their port of arrival, to the time they wave them goodbye, they make sure they receive the most attentive service.
Objective
The core objective was to provide a user-friendly website to take booking for the excursions & adventure tours and maintain a database. The client wanted Team Ezbiz to redesign and redevelop the website as the old version of the website was full of technical glitches and poor in terms of UI/UX and speed.
This purpose was to create a website where the admin can list the latest, excursions, and manage booking through the CRS Booking Engine.
Services Provided
Design Prototype
Frontend Development
Backend Development
QA & testing
Approach
We suggested customised solution for developing a website leveraging the power of HTML and PHP. The web experts came up with a strategic architecture in one go that fulfills the project objectives. The team kept the navigation simple on the homepage that guides visitors to explore all the excursions and tours and make booking as per the choice. The data migration was planned and put in the place effectively with no flaws at all.
The website development and testing were put in sync to avoid any iterations at the end of the project to save time & to ensure quality and flawless delivery of this website.
The client was delighted with the design, state of art UI/UX, features and development efforts of Ezbiz team.