Trip Night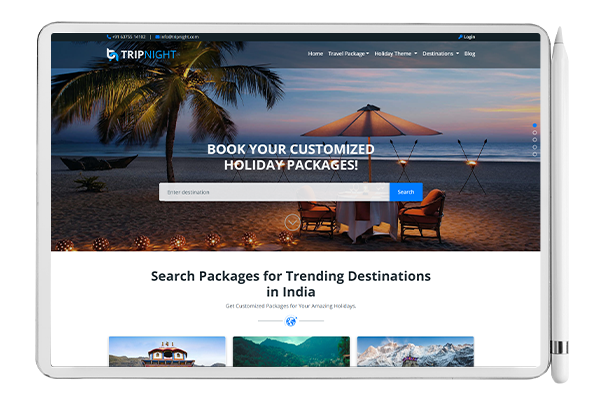 Client Profile
TripNight is a online travel marketplace offering you diverse travel packages & holiday deals by trusted travel agents and tour operators across the globe. It brings both the travelers, and trusted & expert travel agents on a common platform. It offers you the most authentic and experiential trips.
TripNight offers you the highly customised, rich information and insights on destinations and experiences made uniquely relevant for you through its highly innovative and technology-focused product.Conversely, TripNight connects millions of traveller with Travel Advisors via an advanced technology platform and enables you to select the right and customized memories.
Objective
The main aim was to create a feature to check and explore various holiday packages through a destination search only and the application is connected with a CRS Booking Engine. We have created a system which allows the client's customers check availability of rooms description about the services and prices for the types of rooms.
Services Provided
Design Prototype
Frontend Development
Backend Development
QA & testing
Approach
Ezbiz helped with the solutions incorporated with the required feature: shows holiday packages as per the destination, rooms availability according to the check in and check out date, information about the location of the hotel and contact details to attract new customers.
We successfully created a website for our client fulfilling all the needs of them and its helping engage more customers from all over the country Experiencing more international approach also.