Tag Resort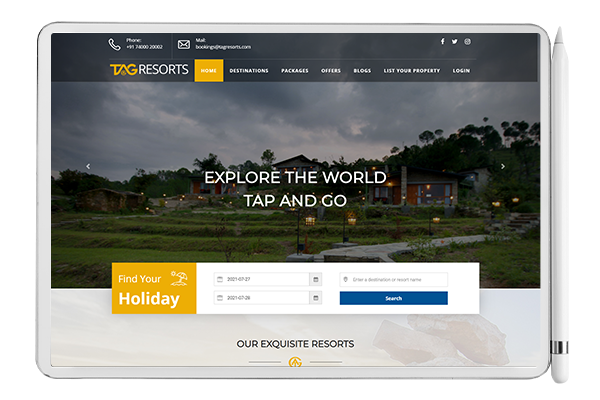 Client Profile
Tag Resorts – A premium and spirited hospitality company catering to your needs of leisure travel, luxury stay and escapade activities. Established with the vision of empowering the ever blooming hospitality industry and providing an alluring holiday experience. Tag Resorts boasts of a team of hospitality professionals who have come together to redefine the meaning of luxury in all true sense.
Tag resorts embrace your holiday experience by providing luxurious hotels, resorts and palaces at a price that does not harm your pocket. They make sure that your investment of time and money should be worth every single minute and penny. Exemplary service, mouth watering cuisine and a homely vibe will instantly get you connected creating a sense of peace, warmth and affinity.
Objective
Client is successful running a hotel business, they wanted to have a web based application holding up every detail including the booking details and availability of the room and the other services they offer. We created a feature to check the rooms availability, about the hotel's services and pricing of the room.
This purpose was to create a website where the admin can list the latest, luxurious resorts or hotels, and manage booking through the CRS Booking Engine there is a payment gateway also.
Services Provided
Design Prototype
Frontend Development
Backend Development
QA & testing
Post Delivery Maintenance
Approach
Ezbiz helped with the solutions incorporated with the following feature: Shows rooms availability according to the check in and check out date and also number of adults and children, information about the location of the hotel and contact details to attract new customers.
We successfully created a website for our client fulfilling all the needs of them and its helping them in the following manner: Getting more customers from all over, the country experiencing more international approach also.