Itrusoft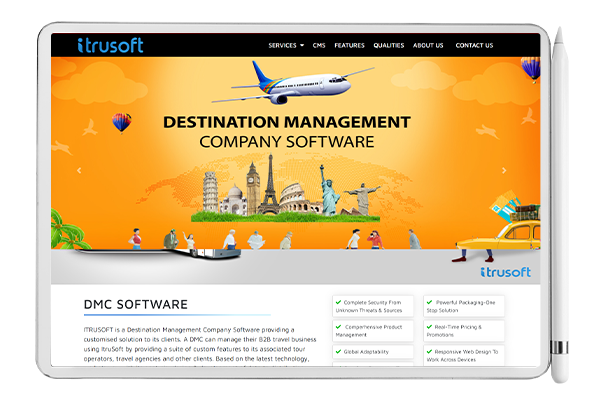 Client Profile
ITRUSOFT, one of the leading global custom software development and software outsourcing company, provides latest travel software solutions for Destination Management Companies (DMC) to simplify their processes and increase productivity. Our Software Solutions enables DMCs to manage accommodations, flight bookings, holiday packages, tours & activities, visas, car rentals, bus tours and transfers along with miscellaneous other services.
Objective
Itrusoft came to us with the objective of scaling their business, which included generating more website traffic, increasing ROI, and improving relationships with their current partners & clients. Following a thorough examination of the client's objectives and requirements, we determined that they required improved UI/UX interface as well as a result-oriented content marketing strategy.
Services Provided
Design Prototype
Frontend Development
Backend Development
QA & testing
Approach
We suggested customised solution for developing a website leveraging the power of HTML and PHP. The web experts came up with a strategic architecture in one go that fulfills the project objectives. The team kept the navigation simple on the homepage that guides visitors to explore all the services.
The client was extremely satisfied with the end product and the client got the excellent response from the visitors. The website increased flexibility and productivity of the client's business