Doceree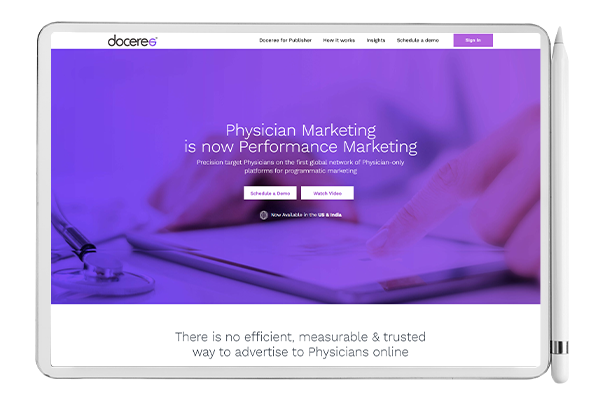 Client Profile
Doceree is basically a publishing and network professional platform that identifies Healthcare Professionals (HCPs) on any web or app platform with more than 95% accuracy.
Objective
The client wanted team Ezbiz to create a user friendly UI that will showcase the services and publishing platform offered by Doceree.
Services Provided
Design Prototype
Frontend Development
Backend Development
QA & testing
Approach
This project is powered by our proprietary intelligent Physician verification engine – ESPYIANTM. ESPYIANTM using AI, data segmentation & analytics can identify the target HCP out of many similar looking profiles, whether on a physician networking site, medical journal, telemedicine platform or even on social networking sites & to ensures that there are no repetitions of HCP profile, no doubling of effort, hence facilitates precision targeting.
You can target HCPs by uploading your own Physician list or by using Doceree audience creation tool, build a custom audience list based on specialty, geography, prescribing behavior, formulary access and their archetypes.
The client was delighted with the design, state of art UI/UX, features and development efforts of Ezbiz team.